---
Features

Anodized aluminum cone and dustcap
Custom 10-AWG nickel plated push terminals
Diamond cut cast aluminum trim ring with optional grille
Dual linear spider with embedded 16 AWG tinsel leads
Extended pole piece and bumped vented backplate
High-temp voice coil with spun-laced Nomex® re-inforcement collar
Protective PVC textured magnet cover
StampCast basket with integrated spider venting
Specifications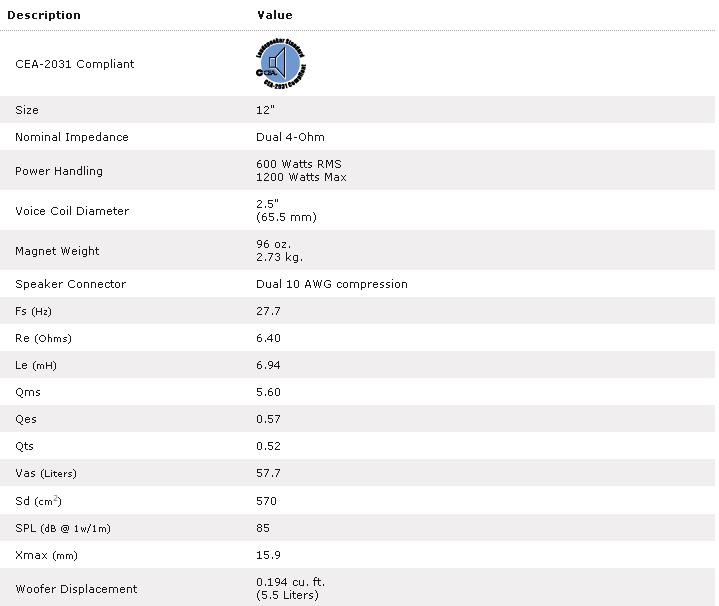 Bass from this is awesome though it lacks some midrange. Quite powerful so it needs a good amp too to compliment with it and for its full potential. Sound produce from it is good and clear, not much noise and distortion from it. Definitely something I would recommend to anyone looking for bass.
Got this sub before CNY. These items sound so good it's just ridiculous! If your looking for a set of subs for a great price these are it. I was so floored by the sound I'm going to get the 10 inch subs and put them in my truck. Money well spent!!!!
| | |
| --- | --- |
| | Don't underpower the subwoofer |
When I first ordered this subwoofer, I thought it was gonna be loud, but nothing special. I thought wrong. This subwoofer is perfect for anyone who wants a clean, loud, and clear sound. Don't underpower the subwoofer though because I learned the hard way. I also bought a 500 watt amp to go with it thinking that it was enough power. Well, the amp overheated all the tim...
Read More »
Simply put, these are the best subwoofers I have ever came across! These woofers just keep going no matter how loud i turn it up. If you're still reading this and thinking it over, buy them! The only drawback I would say that they have is that they require a nice sized box and a lot of power to push them properly. I strongly recommend a slot port box and a good true ...
Read More »
| | |
| --- | --- |
| | Merchant Ratings: |