---
Armor All - Ultra Shine Wash & Wax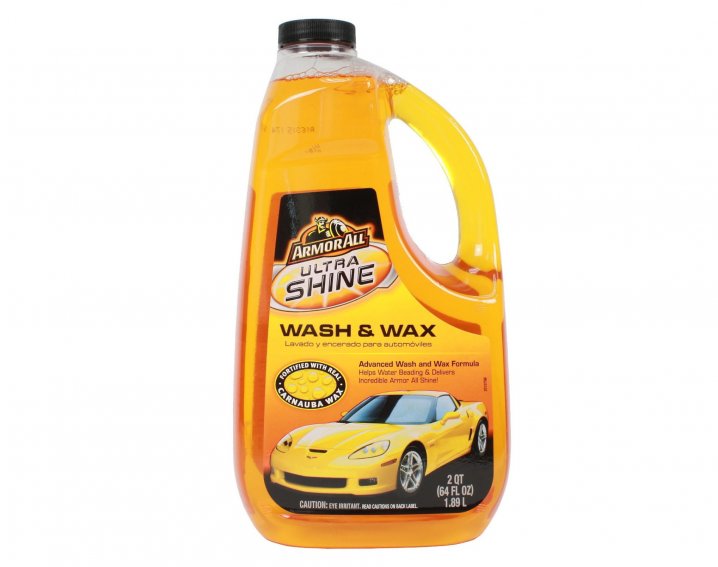 Ultra Shine Wash & Wax was developed using the most advanced technologies available. Our proprietary blend of cleaning agents, surface lubricants and real carnauba wax is absolutely guaranteed to meet the most exacting standards.
Features:
Delivers incredible Armor All Shine
Gently lifts away dirt that can cause scratches and swirls
Helps water beading on your paint
Delivers mirror-like shine as you wash
Reveals your paint's deep, radiant color
Usage Directions:
Use on a cool car, preferably in the shade to avoid sun spotting.
Rinse car to remove loose dirt.
Pour wash concentrate into a bucket and mix with ambient water (use 1 oz. per gallon). Wash car with a sponge, terry cloth or mitt.
Rinse car, then dry immediately with a soft, dry terry cloth or chamois.

This product does its work well. It is convenient to use and leaves my car with shine after using it. I like it, very impressive. Car pretty much dries off by itself, not a whole lot of towel drying necessary. This product is so reliable. I sure will recommend this product to my friend.
Great bubbly shampoo, smells fantastic and gets the job done without any fuss. Not too pricey, doesn't exactly replace real wax and it does get most of the gunk off without any issues.
Used this on my old GTI and it was very good in keeping the shine on the car Suds really well and leaves a waxy film on the car. Used around 2 to 3 bottles since Sticking pont its the price, must be on a look out for offers
| | |
| --- | --- |
| | Merchant Ratings: |