---
The essential companion for your everyday work and start your day with Pioneer Smart Unit Receiver! Having powered by Andriod OS, Pioneer smart tablet receiver is capable of accomplishing your everyday work. Dock on to your in-car docker and transform your car into an entertainment center which features an 8" high-resolution capacitive screen display and Pioneer's audiophile sound quality. With Pioneer Smart Unit Receiver, your every moment will be an unforgettable one.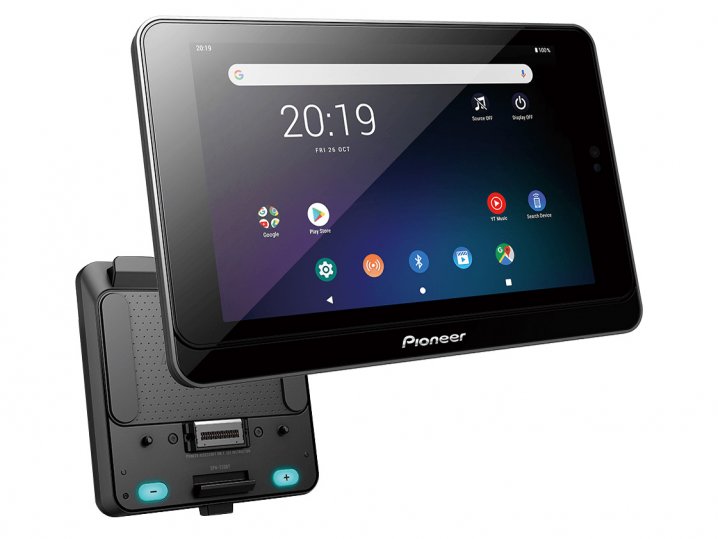 "Detach from car, instantly making a tablet"
The car 8-inch AV receiver is easy to attach and detach. Detach and use inside the car as a tablet, or bring along anywhere outside of the car. Use as a tablet in a variety of situations, from business to leisure, or for kids. This is the perfect device for those who prefer a lifestyle that is smart and efficient.
Not only can it be used to search for your destination at home before heading out, it also functions as a tablet to watch movies, listen to music, and use social media. Experience a seamless, comfortable lifestyle with your car that can't be duplicated with ordinary car AV receivers. Turn vertically to make using social media and web sites easier, change to a horizontal orientation to watch videos. Since the tablet has its own power supply, it can be turned on without having to start the engine.
Supports streaming services like YouTube, Spotify, and more. Enjoy your favorite movies and music with Pioneer sound quality. Have more fun on your drive by streaming music, or watch videos while stopped. Detach and entertain kids riding in the back with their fav...
Read more [+]
| | |
| --- | --- |
| | Always purchase from Pioneer Authorised Dealers to ensure genuine Pioneer products complete with accessories and manuals that are made for use in Singapore. Only products purchased from Pioneer Authorised Dealers qualify for the manufacturer's warranty, professional after-sale support and other complementary services. |
| | |
| --- | --- |
| | Merchant Ratings: |