---
ECO-Friendly Graphene Engine Oil Additive
Formulated to deliver an excellent and efficient engine performance.
Natural Pure Fuel Additive - Nanoparticle to enhance performance
Graphene is a nano particle that protects and forma layer of protective coat on engine cylinder inner walls.
The lubrating membrane will improve engine performance, resulting in a smoother and more powerful ride.
Features
Increase Engine Power
Contain oil stabilizer elements that help thicken the oil and enchance engine performance
Extension of Engine Life
Clean and neutralise oil impurities deposits left on vital engine parts
Improve Fuel Efficiency
Redution of friction in engine cylinders and engine parts, reduces fuel consumption to produce the same performance
Higher Level of Engine Performance
Reduction of heat and friction in the engine, increase efficiency and a high level of engine performance
Greater Ride Comfort
Minimised engine noise level
Long Lasting & Durable
Enduring effects over 10,000km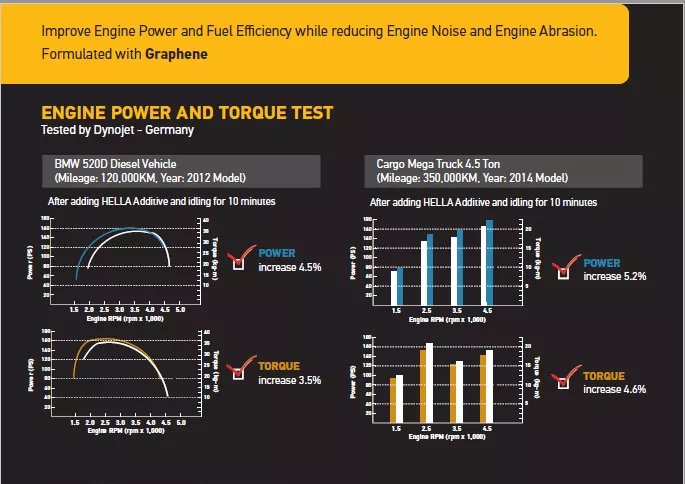 | | |
| --- | --- |
| | Not your common Engine Oil Additive. |
Compared to other brands, HELLA's come with GRAPHENE! At first I didn't know what is it. After some research, it's premium component that help to enhance and project your engine even more! It's very popular in Korea. Not forgetting this engine oil additive is made in Korea, and it's price similar to those other brands that is made in Singapore, Malaysia, etc. ...
Read More »
| | |
| --- | --- |
| | Happy with the product so far! |
Used to be Sceptical about engine oil additive but since this is a Hella product decided to try it on my car and happy with the product so far! - Brian, Owner of BMW 320i SKR99--T
| | |
| --- | --- |
| | Definitely worth the price |
Was impressed by the difference with this little bottle added. Definitely worth the price. - AiMay Tan, Owner of BMW i3 Electric SML3--C
| | |
| --- | --- |
| | Merchant Ratings: |