We get behind the wheels of the MINI Cooper Convertible and the Volkswagen Beetle Cabriolet to find out which manages to deliver a bigger smile.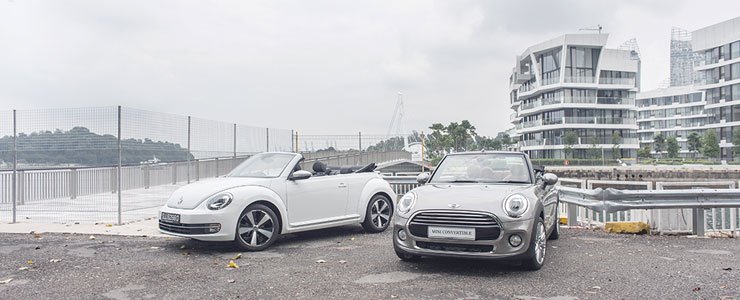 There are two main types of car buyers. On one end of the spectrum we have those who buy using their heads for practical reasons including space, fuel economy or comfort; simply to get them sensibly from one place to another.
On the other end of the spectrum, there are car buyers who pick cars for very special characteristics based on a certain lifestyle or simply for the drive. This is the group that wants to be rewarded by smiles per hour.
If you, like us, belong to the latter group, cars like the
MINI Cooper Convertible
and the
Volkswagen Beetle Cabriolet
will be right up your alley. They are cars that go against the grain, against all practical arguments and are made as happy pills for good days and bad.
The most difficult decision to make is which one makes us happier. We spent a couple of days finding out.
No bad vibes
While the soft-top Cooper and Beetle are made for pretty similar experiences, they are in fact, quite different. The MINI is a lot more compact and squarish than the Beetle, but in its case, it's perfectly hip to be square.
The Beetle is slightly longer, wider and higher, and has a very classic rotund sheet metal design.
When you take their tops down, the Cooper loses some of its shape and style, but the Beetle retains its curvacious body, distinctive fenders, and unique hood that draw the eye of the standard coupe model.
It's certainly one of the most stylish and distinctive cars around town.
That's not to imply that the Cooper is in anyway less pretty, though. In fact, some may beg to differ that it's the cuter car. With its instantly recognisable frontal fascia, trendy dimensions and iconic moniker that will make the girl next door go wow, you can be sure of good visual vibes.
Both cars have automated fabric soft-tops but while the Cooper's will take 18 seconds to open or close, the Beetle's is quicker, doing the deed in 9.5 seconds and 11 seconds respectively.
Their cabins are distinctively different. MINI fans and owners will easily take to the Cooper's stylishly appointed interior layout, with the usual jet fighter-like switches and a circular 6.5-inch infotainment display taking centre stage. Plus, materials used do feel more expensive than the Beetle's
Still, the Beetle's cabin build is of quality, with a trio of performance gauges and body-coloured dash panels adding a touch of sportiness and nostalgia. A slim, flat-bottomed steering wheel is in place for similar reasons.
This model is no longer being sold by local distributors
Engine Type
:
3-cylinder in-line 12-valve TwinPower Turbocharged
Horsepower
:
100kW (134 bhp) / 4400 rpm
Torque
:
220 Nm / 1250 rpm
Transmission
:
6-speed (A)
Acceleration (0-100 km/h)
:
8.7sec
Fuel consumption
:
18.9 km/L

Engine Type
:
4-cylinder 8-valve Turbocharged
Horsepower
:
78kW (104 bhp) / 5000 rpm
Torque
:
175 Nm / 4100 rpm
Transmission
:
7-speed (A) DSG
Acceleration (0-100 km/h)
:
11.7sec
Fuel consumption
:
16.9 km/L