TP-72 - Tyre Pressure Monitoring System.
Features
Match with professional internal sensors
Pressure range: 0~116PSI / 0~8.0Bar
Red rim warning indicator
Single colour LED cigarette lighter plug display
Spot on display scrolls every 2 seconds to show the real-time tyre pressure of corresponding tyre
Sensor preset in factory, no pairing is needed
Wireless transmission, no wires connection is needed
Intelligent sleeping mode for power saving
Visual and audible warning
High temperature and low battery of sensors will be alarmed
Fixed pressure unit (PSI or Bar)
Military sensor battery : Long battery life (>6 years)
Sensor with wide range of operating temperature (-40℃~+105℃/-40℉~+221℉)
DIY to Install Cigarette Plug TPMS
An easy to install cigarette plug monitor, plug-and-play and wireless design. Self-install external sensor and do not need dynamic balancing.
It can monitor the status of tyre during driving. Display will immediately alarm when any of tyre is leaking, low pressure, high pressure and high temperature.
Prevent tyre puncture save fuel decrease tyre wear improve vehicle handling.

Key Functions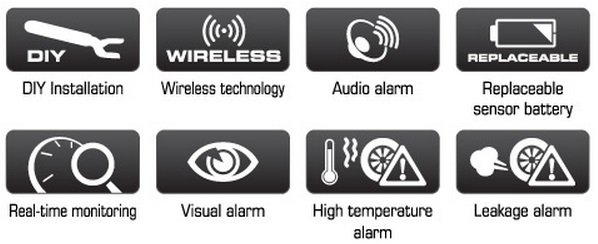 Brought in June 18 with 1 year warranty at $99 in Stamford Tyres after gotten flat tyre and when I knew it, it was too late and I have to buy a BRAND NEW Tyre to replace. Thus decided to get this to monitor car...

Read More »

Bought this from aliexpress at SGD100 including delivery cost. I bought the external sensor version and the installation was breeze. Within 10 mins, I can get up and running with no sweats. The reading is prett...

Read More »
| | |
| --- | --- |
| | Merchant Ratings: |