Thinkware Dash Cam F800 PRO
Brighter, Smarter, and Energy Efficient
1080p Full HD & Full HD 2CH / Super Night Vision2.0 / Time Lapse
Safety Camera Alert | Road Safety Warning System (LDWS, FCWS, uFCWS, FVDW)
140° Wide Angle (Front & Rear) | Advanced Video Clear Technology | Built-in Wi-Fi | Built-in GPS
Format Free 2.0 | Mobile APP (Android/iOS) | Windows/Mac Viewer
Front and Rear View Full HD Recordings

CMOS Image Sensors allow constant front and rearview Full 1080p HD resolution recording during both daytime and nighttime along with a 140-degree wide angle lens view. This will minimise blind spots to assure recording of all events without fail. Thinkware Dash Cam F800 PRO's Full HD rear camera is sold separately.
Super Night Vision 2.0

Dash Cam videos recorded in a low-light environment, such as dark alleys or parking lots, may not be clearly identifiable. Super Night Vision 2.0 in the F800 PRO uses Image Signal Processing (ISP) technology to record a clear, visible video in any situation - while driving or parked.
Energy Saving Parking Recording
Energy saving parking recording will reduce power consumption by 1/3 less and gives 3x longer video recording than normal parking mode. When you are away for a vacation or leaving your car for quite some time, energy saving parking recording is a recommended solution. When in use, F800 PRO will go to sleep and soon after an impact has been detection by built-in G-senor, F800 PRO will wake up within a second and start recording for next 20 seconds of a period.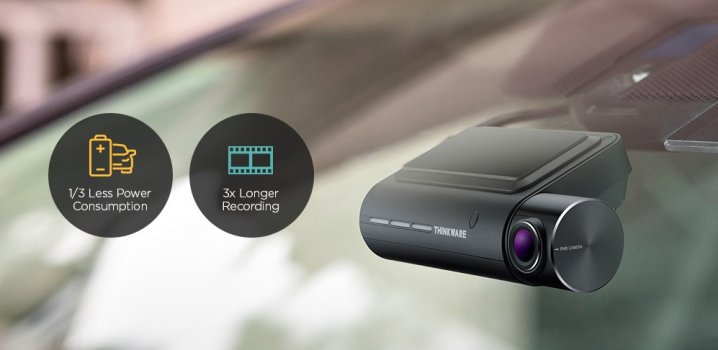 Time Lapse
Important clips and images may get deleted due to ...
Read more [+]
| | |
| --- | --- |
| | ZMC Automotive provides a 1-year warranty for all Thinkware products against manufacturing defects when used on passenger cars under normal use within the territory of Singapore. Beware of counterfeits and imitation products by buying only from authorised dealers. |
Purchase Thinkware F800 Pro after much consideration. Due to AD dash cam couldn't make it for my ride. Is good to have a good dash cam than a bad one. Thus I'm recommending this. Great Features and nice desig...

Read More »

| | |
| --- | --- |
| Excellent Full HD quality but cloud fea... | |

Got this unit during the PC show at a good price. After using it for 2 weeks, everything is running fine except the cloud features. The cloud features is half-baked. You will not be able to view the video remot...

Read More »
| | |
| --- | --- |
| | Merchant Ratings: |