Techron® D Concentrate, with Precision Clean™ technology, is uniquely designed to be a one-tank cleanup solution. It will clean diesel injectors and keep them performing almost like new. It can be used with all types of diesel fuel including ultralow sulfur diesel, biodiesel and biodiesel blends.
Techron® D Concentrate has been tested using various industry & OEM standard test (example: XUD-9, DW10 & IDID injection test). It removes the natural buildup of carbon deposits through the entire fuel system. It cleans internal diesel injector deposits across a range of injector technologies.
It also comes with Cetane Improver. It will not harm after treatment devices such as Diesel Particulate Filters (DPFs).
WHY USE TECHRON® D CONCENTRATE?
Removes deposits others may leave behind. Deposits build up will compromise your driving experience. The build up is expected to be more common if you often use low quality diesel fuel or biodiesel fuel.
With the use of Techron® D Concentrate, it will clean up the deposits and restore the fuel injectors and fuel system to clean.
With a cleaner system and with Cetane Improver, it helps:
• Restore lost engine power and performance
• Improve combustion and cold starting
• Maximize your fuel economy
• Lower emission
You are likely to experience a smoother and better drive.
KEEPING DIESEL INJECTORS CLEAN WITH TECHRON DIESEL CONCENTRATE
Techron® D Concentrate, with Precision Clean™ technology, is a premium fuel additive that deep cleans deposits on diesel injectors and also the fuel system.
FUEL INJECTOR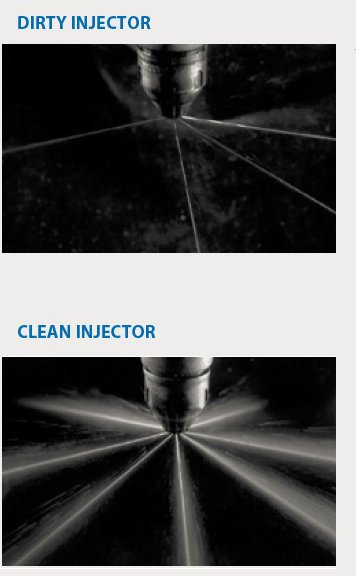 * Actual results may vary

DIRECTION FOR USE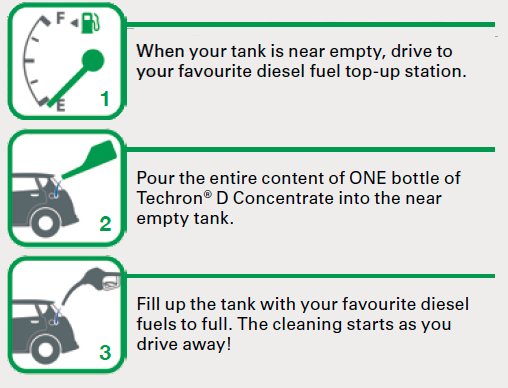 QUESTIONS & A...
Read more [+]
| | |
| --- | --- |
| Improvement in FC and Response | |

Tried this on my 2015 Volvo V40 D2, with mileage of 40k. Almost using up this tank of diesel and FC I'M getting is about 0.6km/L higher than my usual. Felt throttle response is slightly better as well, wit...

Read More »

| | |
| --- | --- |
| Slight performance increase in Q30 | |

The models on the website did not have a Q30 Premium, but this review is based on an Infiniti Q30 Premium. After using Techron Concentrate, my fuel efficiency increased from a 3.8l/100km to a 3.6l/100km. Not...

Read More »

| | |
| --- | --- |
| Slight improvement on new car | |

Added Techron D to my 6mths Renault Megane with 7k mileage. After driving about 200km, I do notice very slight improvement on FC but it could also be me being more conscious on my footing. I truth this produ...

Read More »

| | |
| --- | --- |
| Techron D Concentrate Plus | |

My Megane has been less than 1 year when i tested this product. I have been pumping Caltex for around 6 months and felt that it can last me longer days as compared to other petrol stations. Personally felt t...

Read More »