---
DR900X PLUS Series - 4K CLOUD DASHCAM
4K UHD Dual-Channel Cloud Dashcam
The BlackVue DR900X Plus Series redefines expectations for dashcam video fidelity. The front camera's
8-megapixel CMOS sensor
captures
4K Ultra High Definition
video—four times as many pixels as Full HD.
Front camera with 4K Ultra High Definition (3840 x 2160 @30FPS)
Rear camera with Full HD (1920 x1080 @30FPS)
8M Pixels front image sensor (4 times more pixels than Full HD)
162º wide view angle (front) and 139º (rear)
Seamless Pairing
Dual-band WiFi (2.4GHz/ 5.0GHz)
Cloud service compatible
Adaptive Format Free
Scheduled Reboot
Support up to 256GB microSD card
Support Parking Mode with Impact and Motion Detections, Time Lapse and Region-based Motion Detections
Support optional LTE module for Cloud Connectivity
Support Native Parking Mode (hardwiring cable included)
​Improved Image Quality
The DR900X Plus Series front camera produces crisper 4K videos than its predecessors. The difference is actually quite noticeable when looking at side-by-side footage. You can clearly see finer details even from a further distance.
DR900X vs. DR900X PLUS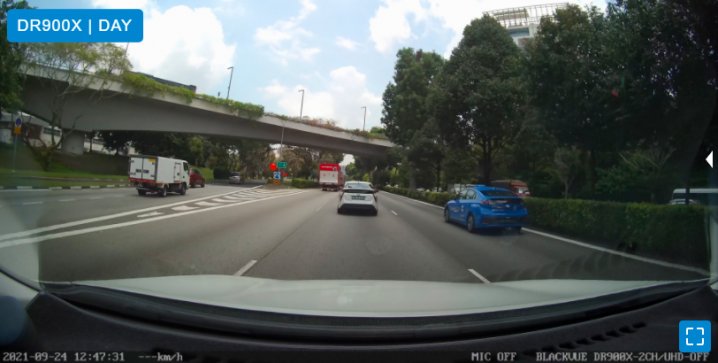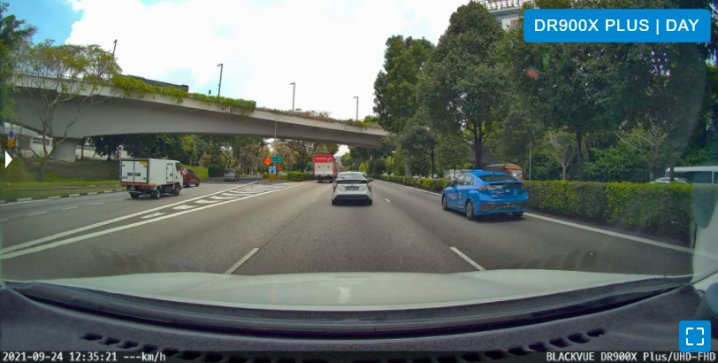 ​In a Class of its own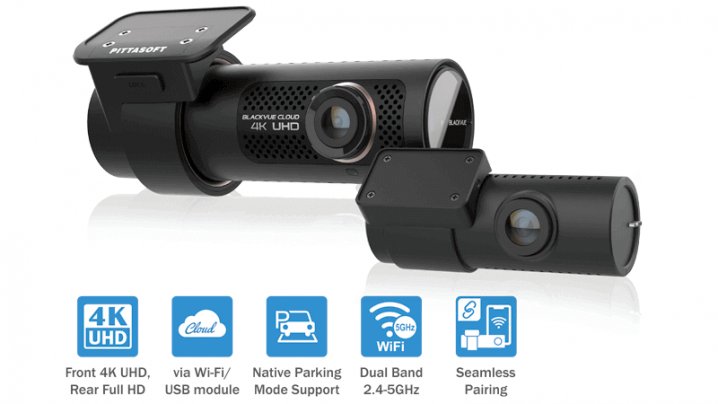 Front cam: 8 megapixels sensor / 4K Ultra High Definition (3840×2160 @30FPS) with ultra-wide 162ª view angle
Rear cam (available for DR900X-2CH PLUS): 2.1 megapixels STARVIS™ sensor / Full HD (1920×1080 @30FPS) with 139ª view angle. ​
Your BlackVue captures critical details while driving or in Parking Mode.
With BlackVue Cloud, you could monitor your car anytime anywhere.
Discover the 4K difference

​ULTRA-CRISP V...
Read more [+]
| | |
| --- | --- |
| | Purchase from local authorised dealers to enjoy the product warranty against manufacturing defects for 12 months. Warranty period for battery and memory are 6 months and 3 months respectively. Terms and conditions apply. |

| | |
| --- | --- |
| | Highly recommended car camera |
4k front and back camera really can see thing clearly compare with other brands in the market I can say Is the best so far. - Alvin Goh, Owner of Hyundai i30 SLX8--Y
| | |
| --- | --- |
| | Loyal user with positive experiences for... |
Having been a loyal user of numerous BlackVue in-car dashcams for quite a substantive number of years, I have always been extremely satisfied with the camera built and image quality, and the outstanding technology that accompanies it. BlackVue in-car dashcams have served me very well when circumstances require me to depend on it. The ease of accessing/ utilising th...
Read More »
| | |
| --- | --- |
| | Super satisfied with BlackVue |
Have been using the product from this brand for many years. Super satisfied with it as it didn't give me much problems. Price wise can be a little high. - Shawn Lim, Owner of BMW 640i SKG2--U
| | |
| --- | --- |
| | Trusted with the best picture quality |
Just bought the camera recently and I felt that the application was very easy to use. The picture quality was great too and can see nearby car plate numbers very clearly. Best to invest in a good car camera these days because it is no longer optional. Too many cases and accidents, so best to use a camera brand that can be trusted with the best picture quality. - Md Zu...
Read More »
| | |
| --- | --- |
| | Merchant Ratings: |
Nightz Concepts

Address
:
50 Serangoon North Avenue 4 #02-18 (map)
Phone
:
90035540 / 64834838

Eclipse Auto Pte Ltd

Address
:
155 Kaki Bukit Avenue 1 #01-00 Shun Li Industrial Park (map)
Phone
:
92376217 / 68442814