---
LTE DASHCAM - DR750X-2CH LTE PLUS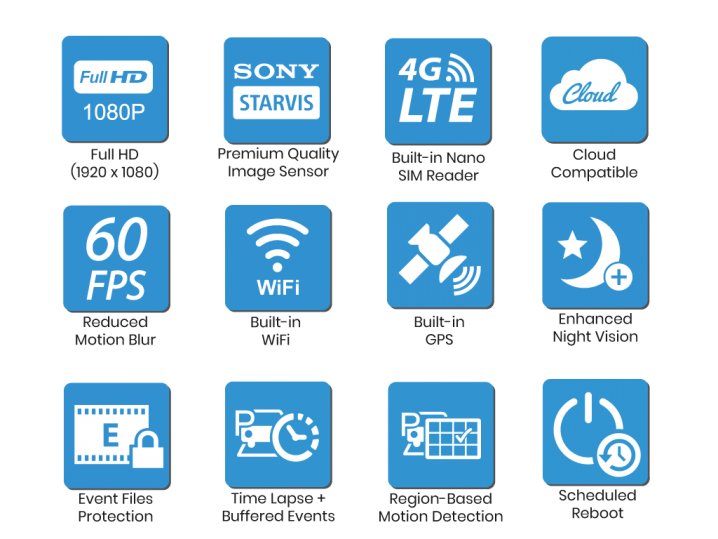 Dual-Full HD Cloud Dashcam
Easy Cloud connectivity with built-in Nano SIM card reader*. Best image quality night and day with Full HD Sony STARVIS image sensors. Let DR750X-2CH LTE PLUS watch over your car and warn you remotely of impacts through the intuitive BlackVue App anytime anywhere.
(*) data plan is not included.
4G LTE nano-SIM card reader built-in (SIM card not included)
Front camera with Full HD (1920 x1080 @60FPS)
Rear camera with Full HD (1920 x 1080 @30FPS)
2M Pixels SONY Starvis image sensor with Night Vision
139º wide view angle
WiFi built-in
WiFI Hotspot function (NEW)
Seamless Pairing (NEW)
Cloud service compatible
Adaptive Format Free
Scheduled Reboot
Support up to 256GB microSD card
Support Parking Mode with Impact and Motion Detections, Time Lapse and Region-based Motion Detections.
Improved Sony Starvis Image Sensor
The Sony STARVIS image sensor that equips the DR750X-2CH LTE PLUS Series front and rear cameras delivers outstanding low-light performance.
The back-illuminated sensor is capable of capturing an unprecedented amount of detail in both shadows and highlights.
The
PLUS
Series improves further on the ability to capture detail in the most contrasted scenes.
Check below for a side-by-side comparison between the
DR750X Plus
(which has the same video quality as
DR750X-2CH LTE
) and its predecessor the
DR750X
(
DR750-2CH LTE
).
DR750X vs. DR750X PLUS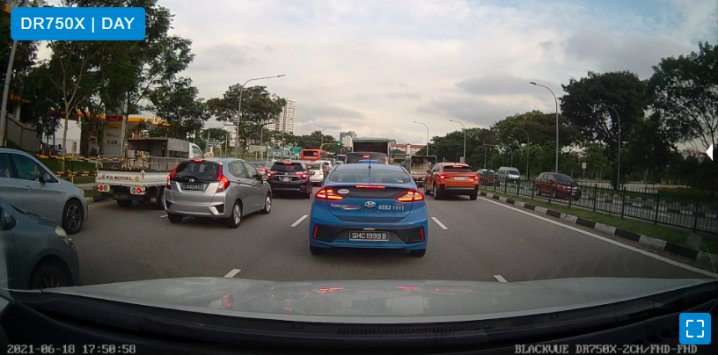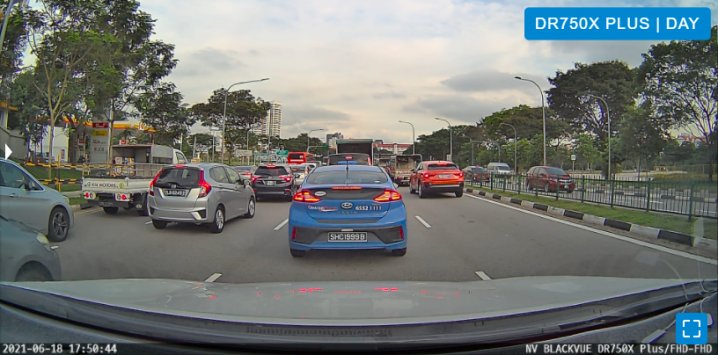 Award Winning Dashcam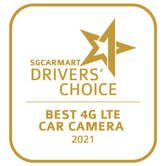 Best 4G LTE Car Camera 2021
Awarded to DR750-2CH LTE By SgCarmart's Drivers' Choice Awards which is the predecessor to DR750X-2CH LTE PLUS....
Read more [+]
| | |
| --- | --- |
| | Purchase from local authorised dealers to enjoy the product warranty against manufacturing defects for 12 months. Warranty period for battery and memory are 6 months and 3 months respectively. Terms and conditions apply. |

| | |
| --- | --- |
| | Reliability and functionality |
Got the DR750X-2CH LTE Plus installed over the weekend at AutoTrend. Max is the person to look for and he provided honest and genuine advice. After installation, he went through the app patiently and explained each step throughly. Quality of the dash cam is decent, it was the only LTE model available at the time of writing. Got this due to the overall reliability and ...
Read More »
This is my 3rd purchase of Blackvue Car Cam! It never fails me and I have also managed to capture 2 hit-and-run incidents. Looking forward to have this new model serving me well! - Tony Gui, Owner of Toyota Wish SFJ5--S
| | |
| --- | --- |
| | You can never go wrong with this camera |
Amazing camera ! Never fail to impress me ! Once a blackvue always a blackvue ! Image quality is perfect . With cloud version , u can sleep in peace without worrying ! Worth every single cent . Last but not least , you can never go wrong with this camera . - Dennis Ting, Owner of Volkswagen Golf SKX4--H
Top features and specs for a dashcam. Lte function gives added convenience to have live remote view and push notifications if anything happens while car is parked.
| | |
| --- | --- |
| | Merchant Ratings: |