---
3-DRIVE is a device designed for electronic throttle car models that gives you, the driver, the freedom to select the type of acceleration response you need or desire. A wide variety of response adjustment can be made: from Sports Mode which gives you a sharp response for sporty driving to a slower than normal response for eco-driving.
3-DRIVE is the next generation throttle controller for both Sport and Eco-driving.
Features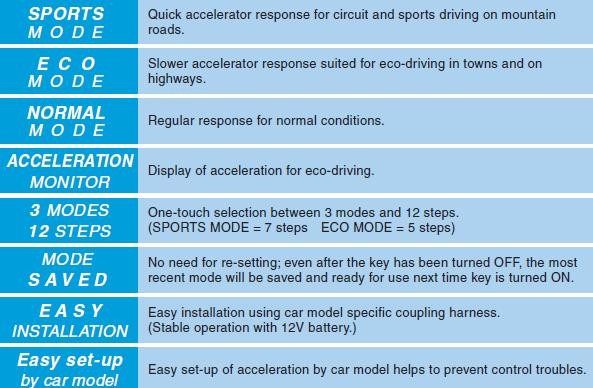 | | |
| --- | --- |
| | Easy to install throttle controller that... |
I just plugged this thing into my car and went for a drive with it. It has 12 modes which is a bit overkill, but the difference between Eco, Sports and normal modes is like night and day. In Sports mode, I actually felt like my car was given a performance boost. In Eco mode, my MPG actually improved! For it's price, I say its worth it.
After being a car owner for sometimes, I find that my daily ride have been dull and not exciting. I am looking for something that will spice up the relationship between my car and me. And luckily I found Pivot 3 Drive throttle control. It give me more control and response for my engine and it is very easy to install. The ony thing that yo can see is a LCD monitor that...
Read More »