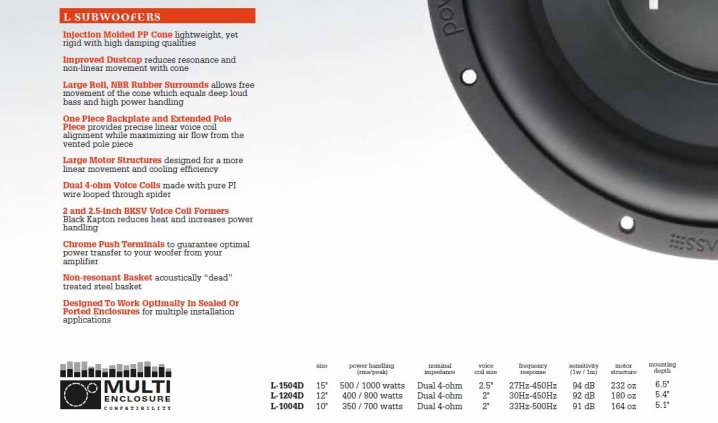 Our new L Series Subwoofers have been engineered to deliver the earth-shaking SPL and smooth bass that SQ purists require.
Each L model features a redesigned Injection Molded PP Cone. This cone combines deep bass and distortion free sound. Next we designed a single piece CNC machined back plate with extended pole piece to insure a strong symmetric magnetic field for increased operating efficiency. A sandblast finish was applied for good looks and durability.
To make the bass super tight, our engineers designed Large Roll NBR (Nitrile) Rubber surrounds which allows free movement of the cone for maximum SPL, a large motor structure for high power handling, 2.0" black Kapton voice coil former for optimum performance and cooling for maximum heat dissipation.


Features
Injection Molded PP Cone
Large Roll, NBR Rubber Surrounds
One Piece Plated Backplate and Extended Pole Piece
Large Motor Structures for High Power Handling
Dual 4-ohm Voice Coils
2" Vented KSV Voice Coil Former
Chrome Push Terminals
Non-resonant Basket
Designed To Work Optimally In Sealed Or Ported Enclosures
Specifications
Size: 10in
Power Handling
(RMS/Peak): 350/700 watts
Nominal Impedance: Dual 4-ohm
Voice Coil Size: 2.0 in
Frequency Response: 33Hz - 500Hz
Sensitivity: 91dB
Motor Structure: 164 oz
Mounting Depth: 5.1 in
T/S Parameters
VC Impedance: 4 ohm + 4 ohm
Test Impedance: 1.6 ohms
Fs: 33 Hz
SD: 330 sqCM
Vas: 32.3 Ltr
Cms: 208.6 µM/N
Mms: 117.3 g
BL™: 9.1
Qms: 4.4
Qes: 0.43
Qts: 0.39
No: 0.24%
Spl: 91 dB
Xmax: 11 mm
...
Read more [+]
I had already installed this in our previous car and was pleased with the effect, so this was the obvious choice to go in our replacement second car, which also suffered from a distinct lack of bass. I looked a...

Read More »

| | |
| --- | --- |
| Hard-pounding, jaw-dropping woofers. | |

The first time I played these woofers with dubstep songs, it just made me chuckle for a moment, enjoying the pounding and thumping bass that the woofers deliver. Had these installed last month, and till now it ...

Read More »

| | |
| --- | --- |
| The woofers that everyone would be chasi... | |

These woofers performed like a beast right upon installing it by the boot of my ride. I had no regrets getting these woofers. What it delivers is the great sounding, sweet bass that pounds really well in my car...

Read More »
| | |
| --- | --- |
| | Merchant Ratings: |
JK Audio

Address
:
33 Sembawang Road #01-03 (map)
Phone
:
64591639