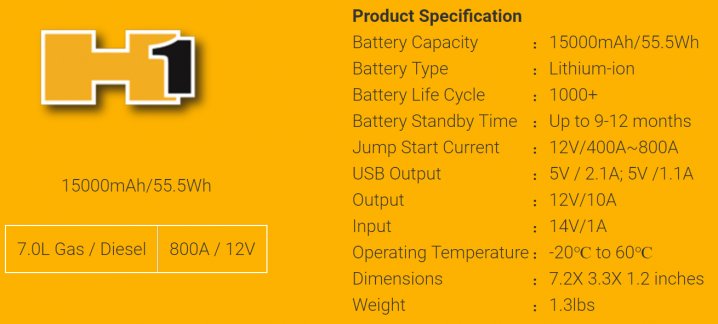 Based on its design concepts of military vehicles, Hummer is pleased to launch the all-new H1, H2 and H3, a first of its kind series of highly protective multifunction Car Jump Starters of an excellent military quality, high configuration and high performance. Hummer Jump Starters can jump start vehicles up to 7.0L Gas/Diesel in seconds!
Modelled on Hummer's robust and rugged style, Hummer Jump Starter series inherit Hummer's pedigree of multi-functionality, a common feature of military vehicles. Equipped with a built-in illuminating system, they can power a wide range of digital products, manifesting Hummer's supremacy in the field of the automobile.
| | |
| --- | --- |
| | United Automobile Services provides a limited warranty of 1 year from the date of invoice, for all Hummer Power Bank Jump Starter purchased from its authorised retailers. |

| | |
| --- | --- |
| The most compact multi-functional jump s... | |
As I spend a lot of time on the road, and travel frequently up north, having a product like the Hummer H1 power bank cut jump start kit will ease my worry of running into battery flat situation (which I had enc...
Read More »
| | |
| --- | --- |
| | Merchant Ratings: |