---
DR590W-2CH IR with in-cabin facing camera with infra-red (IR) is ideal for taxi and private-hire car drivers, this dashcam monitors both the road ahead and the interior of your vehicle in Full HD 1080p. No more worries about fare cheats and abusive passengers.
DR590W-2CH IR with WIFi built-in connects to your smartphone easily with the BlackVue App.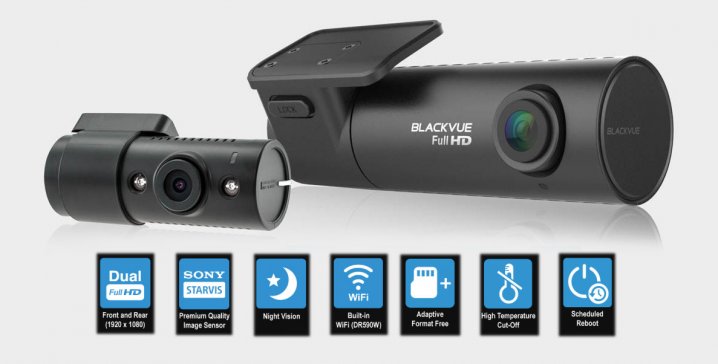 Dual Full HD dashcam
STARVIS image sensor (front camera) for awesome image clarity day and night.
The interior infrared camera records clear videos even in complete darkness thanks to its discreet infrared illumination LEDs.
Full HD 1080p @30fps for both front and rear cameras.
DR590W-2CH with built-in WiFi and connects to your dash cam with the BlackVue App to adjust settings, check the view from the front and rear cameras or transfer files to your mobile device.
Infra-red Interior camera

The Infrared Camera secures the interior of your vehicle. The inconspicuous infrared LEDs automatically activate based on the ambient light.
The camera's spectacular clarity even in pitch black lighting conditions will procure peace of mind to taxi and rideshare drivers.
Using the BlackVue App or Viewer, you can further customize the way it operates.
180° Image Rotation to accommodate your setup: if the image comes out upside down, just activate this feature and it will fix the image orientation.
Security LED ON/OFF (for stealth in Parking Mode)

Uncompromised features
Built-in impact and motion detection
For Parking Mode recording, an external battery pack (Cellink Battery) or a hardwiring kit (Power Magic Pro) is required.
...
Read more [+]
| | |
| --- | --- |
| | 18-month warranty applies to all BlackVue dashcams and Cellink batteries with product online registration. The default memory card that comes with the dashcam is covered by a 6-month warranty. Terms and conditions apply. |

Everyone should own this Great car camera with most advanced and user friendly features. Especially for my New Lexus...I am very proud to have it installed in my New Car. - Chow Lin Yee, Owner of Lexus NX350H SDL5--X
| | |
| --- | --- |
| | Clear recordings, recommended! |
Clear recordings, bundled with my car when delivered. Recommended - Chin YK, Owner of Lexus ES250 SNF65--H
The product has nice design and wifi enabled for easy access to data quickly. - K Ramesh, Owner of Lexus ES300h SNH34--C
This is my 2nd unit of BlackVue for my 2nd car. I connect it to cellink Neo8+ and so far working fine with sufficient power more than 20 hrs. It's also easy to export the video clip for sharing. The video quality is good and strongly recommend to all car owners. - Francis, Owner of BNW 740LI SKG55--L
| | |
| --- | --- |
| | Merchant Ratings: |
Eclipse Auto Pte Ltd

Address
:
155 Kaki Bukit Avenue 1 #01-00 Shun Li Industrial Park (map)
Phone
:
92376217 / 68442814