---
The Cellink is built with the safest battery technology using LiFePO4 (lLithium Iron Phosphate) which will keep your BlackVue dashcam running for long hours in parking mode.
Cellink NEO has twice the battery capacity of B3.
NEO has Bluetooth built-in and communicates through smartphone app to check information such as charging and usable time with ease. It can be charged fully within 40 minutes.
FASTER AND SMARTER
Cellink battery is normally installed in the location out of your sight. With Cellink NEO, you can easily connect with your smartphone to check out the charging time, usable time and access to the settings with just a few flicks of your finger. Charges fully within 40 minutes and you can enjoy up to 48 hours of parking mode with a peace of mind!
Cellink battery is the safest power solutions for dashcam and with Cellink Neo, it is definitely faster and smarter!
Selectable charging current
Cellink B6 and NEO with selectable charging current:
1) 5A / Low charging - using Cigar Jack connection
2) 7A / High charging - using direct fuse panel connection (hardwired)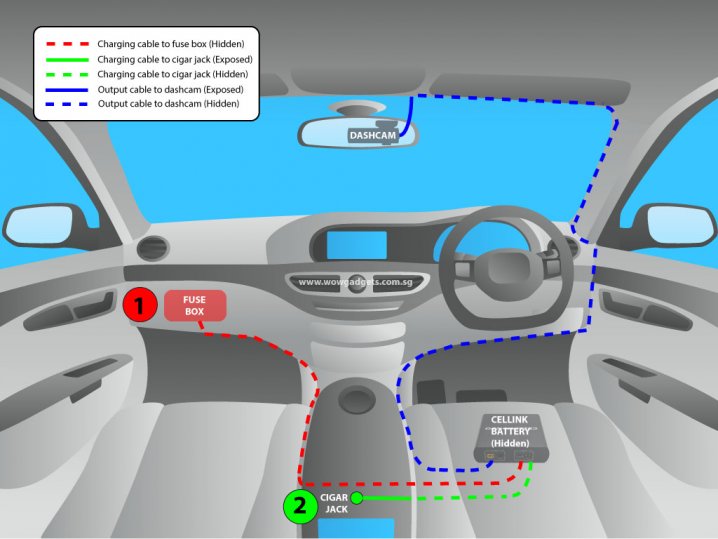 Simple & safe installation
5A charging with Cigar Jack cable option available.
| | |
| --- | --- |
| | Purchase from local authorised dealers to enjoy the product warranty against manufacturing defects for 12 months. Warranty period for battery and memory are 6 months and 3 months respectively. Terms and conditions apply. |

Well, it's a battery; I am not sure how you review battery. I guess it's good, seeing that it's working as it should? APP wise, it should be be a part of the BlackVue app. I think it's just an inconvenience to have to download a separate app for this item, and another for BlackVue's, when you've actually purchased both as part of one system. - Rajesh Hardwani, Owner...
Read More »
Likely product for about 24hrs use on DR590W-2CH, great blue tooth function to check battery status & simple charging on/ off function, great product & will be even more perfect if can last 2~3 days instead of current 1 day ;) - GK Tan, Owner of Kia Cerato SLV57--S
A very useful and small battery. Will keep your BlackVue dashcam running - Tan Jee Seet, Owner of BMW 520i SMY93--H
| | |
| --- | --- |
| | Merchant Ratings: |