---
BlackVue DR750X-2CH - Reliable and Connected Dashcam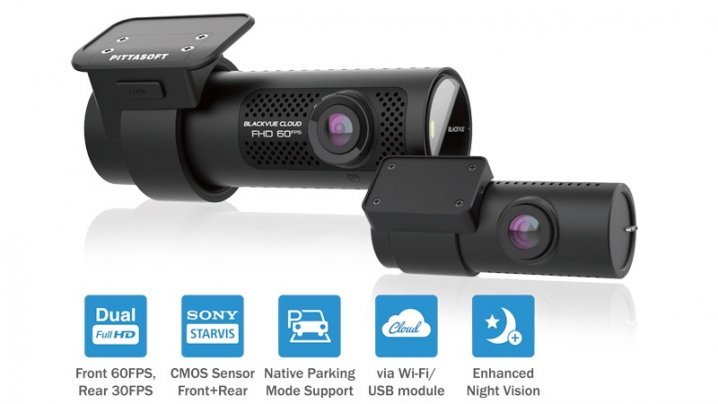 Dual-Channel Full HD Cloud Dashcam
The DR750X-2CH is a dual-channel dashcam with BlackVue Cloud connectivity.
Both front and rear cameras feature Full HD Sony STARVIS image sensors for best image quality under any light.
This stealthy dashcam also packs built-in GPS, Wi-Fi and native Parking Mode support via included hardwiring cable.
View and download videos easily with the BlackVue App.
Cloud support via Wi-Fi router or optional USB plug-in LTE module.
Front camera with Full HD (1920 x1080)
Rear camera with Full HD (1920×1080)
Reduced motion blur with high frame rate @60FPS
2M Pixels front SONY STARVIS image sensor with Night Vision
139º wide view angle
WiFi built-in
Cloud service compatible
Adaptive Format Free
Scheduled Reboot
Support up to 256GB microSD card
Support Parking Mode with Impact and Motion Detections, Time Lapse and Region-based Motion Detections
Support optional LTE Module for Cloud Connectivity
Support Native Parking Mode
Full HD Cloud Dashcam


DASHCAMS WITHOUT COMPROMISE
Front cam: 2.1 megapixels STARVIS sensor / Full HD (1920×1080 @60FPS) / View angle: 139 degrees.
Rear cam (DR750X-2CH): 2.1 megapixels STARVIS sensor / Full HD (1920×1080 @30FPS) / View angle: 139 degrees.
Smooth video with reduced motion blur @60FPS front camera.
With the free BlackVue Cloud add-on service, check on your car anytime, anywhere.
High Frame Rate for Extra Fluidity
THE ADVANTAGE OF 60FPS VIDEO CAPTURE
​
The front-facing camera records extra fluid videos at 60 frames per second, keeping all details sha...
Read more [+]
| | |
| --- | --- |
| | Purchase from local authorised dealers to enjoy the product warranty against manufacturing defects for 12 months. Warranty period for battery and memory are 6 months and 3 months respectively. Terms and conditions apply. |

The DR750X-2CH provides quality recording when I'm on the road, and has a user-friendly interface for the navigation of the app - Benjamin, Owner of Kia Cerato Forte SNC12--R
The video is not sharp and clear. Nighttime lights look glare. But I like the cloud which I can remote viewing. - Tia Han Suan, Owner of Hyundai Avante SMW27--A
| | |
| --- | --- |
| | Great video capture quality and work sea... |
Blackvue DR750X-2CH has great video capture quality was smooth video images with clarity and sharpness. It works seamlessly with my mobile with its Blackvue app with simple connection and use requires no need to refer to the quick start guide manual. - Brian Chow, Owner of Mercedes Benz C200 SCW7--G
| | |
| --- | --- |
| | Video quality is excellent |
Video quality is excellent, downloads are easy, phone app has friendly and instinctive user interface. - Gary Lee, Owner of Subaru Forester SDR63--A
| | |
| --- | --- |
| | Merchant Ratings: |