---
Philips GoPure 7101 Car Air Purifier
Philips GoPure 7101 boosts the CADR for PM2.5 up to 22.9 m3/hr and thereby significantly reducing these particles in just 6 min of standard sedan or SUV. The Airmid certified car air purifier technology removes 90% of airborne pollens.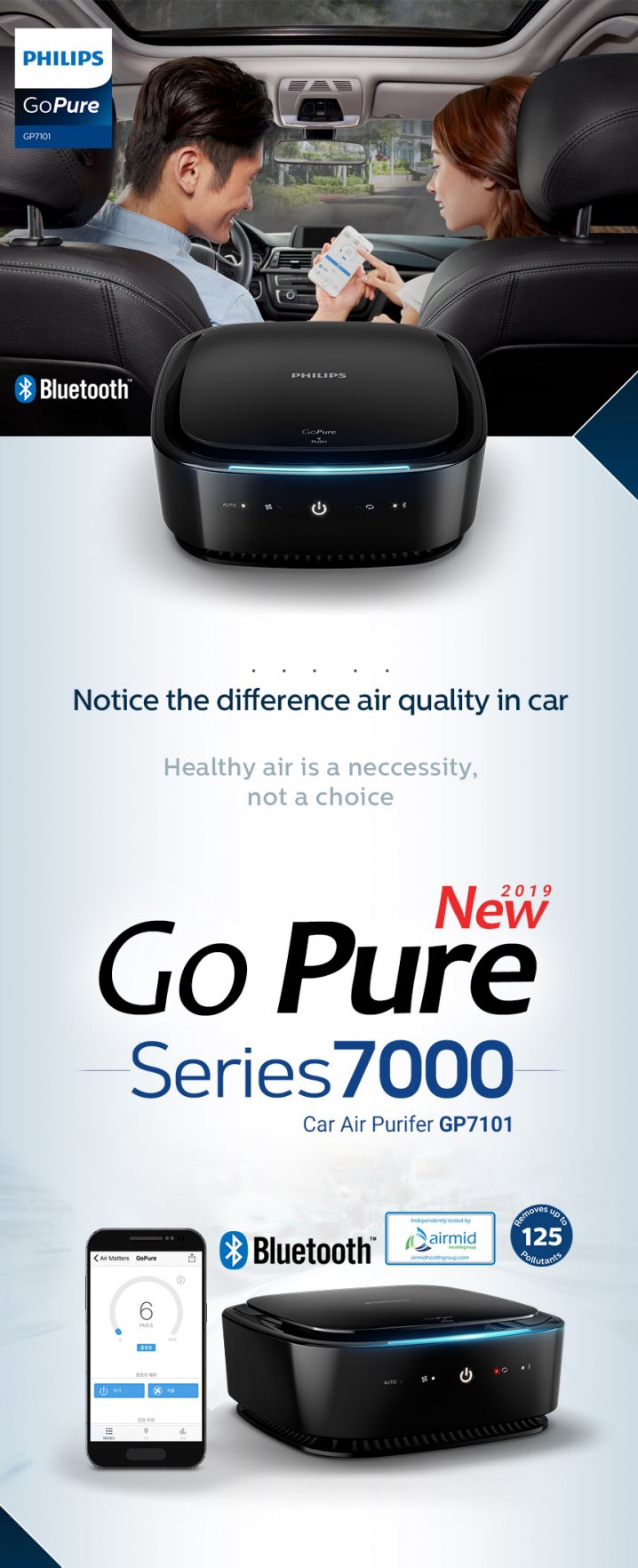 Breathe only healthy air in your car
Protects your family up to 125 pollutants
CADR for PM2.5: 22.9m3/hour
CADR toxic gases: 14m3/hour
CADR NO2/SO2: 18 and 15m3/hour
App controlled iOS and Android
Features:
Filters harmful PM2.5 fine particles in just 6 minutes

Philips unique SelectFilter Plus filtration technology, with integrated pre-filter, quickly and effectively removes particles detected in the car cabin, such as PM2.5. With a Clean Air Delivery Rate (CADR) of 22.9 m3/hour for PM2.5, 50% of a standard sedan or SUV is filtered in just 6 minutes. Not only does it remove harmful particles, but also cigarette smoke and dust so you breathe fresh and clean air.


Quickly remove toxic gases like exhaust fumes from your car

Philips unique 3-stage SelectFilter Plus technology includes a HESA layer. This decontaminates your car of harmful gaseous chemicals. Through a powerful absorption and oxidation process, it removes harmful gaseous substances at a Clean Air Delivery Rate of 14m3 per hour. So in just a few minutes it cleans the air of car exhaust fumes, chemicals emitted by plastic materials and other odor emitting substances e.g. volatile organic compounds (VOCs), toluene and formaldehyde.


Removes harmful NO2/SO2 fumes coming from traffic

Who wants their family to breathe exhaust gases from heavy ...
Read more [+]

Ease of use is great. Sign in with the Air Matters app and turn on the purifier and you are good to go. Remember to remove filter plastic bag before use. Experience nice clean fresh that's is air cleaner than air outside the car - Edwin Chew, Owner of Kia Cerato SMF16--T
Very innovative product! I like the idea that the app controlled smart air purifier not only shows the filter's status, letting you know when its time to replace it. - Adrian, Owner of Toyota Wish SJJ15--L
Its App controlled smart Air Purifier with three speed setting that automatically adapts to pollution level. Happy with my Purchase as car smells great and refreshing. - Sean Lee, Owner of Toyota Vios SJS50--A
Purifier is performing brilliantly! I can tell the difference in air quality. It has nice design and is quiet to use. - Danial, Owner of Toyota Wish SJN69--G
| | |
| --- | --- |
| | Merchant Ratings: |