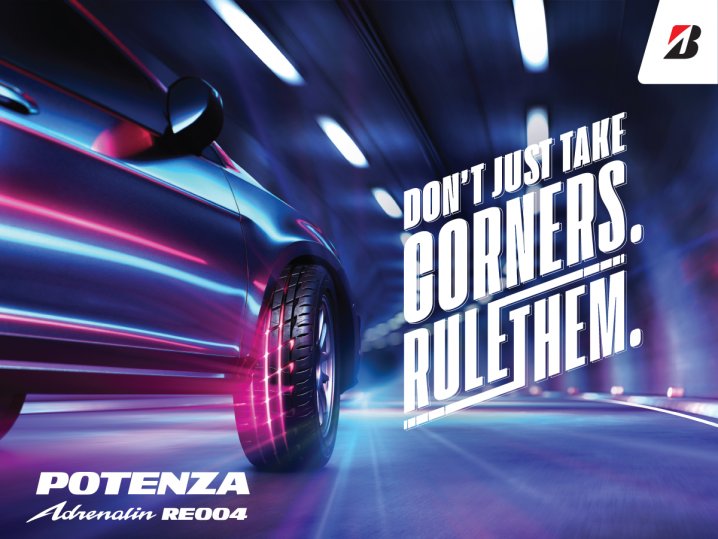 Take to the streets with the new Bridgestone Potenza RE004 and discover the thrill of driving. With amazing handling and high responsiveness in sharp turn-ins, you'll feel the road more acutely while enjoying greater stability and control. This isn't just a tyre that's built for drivers; it's a tyre that's built for the drive.
Designed for Control, Engineered to Precision
All-Weather Performance, All-Around Excellence
Performance Information
Features
"A" SHAPE & AGGRESSIVE GROOVE

Aggressive and dynamic thread patterns don't just deliver great looks – they also deliver superb handling.


TRIPLE & HALF GROOVES

Take corners and brake with more confidence and control on both wet and dry road surfaces.


WIDE INSIDE RIB

Stiffens instantaneously in reaction to road conditions for greater driving pleasure.


CONNECTING BLOCKS

High speed doesn't have to mean low control. With a stiff shoulder block, tyre sensitivity is increased while excessive movement is reduced.
Sizes Available
195/50R15
195/50R16
195/55R15
205/45R16 XL
205/45R17 XL
205/50R16
205/50R17 XL
205/55R16
205/60R16
215/45R17 XL
215/50R17 XL
215/55R16 XL
215/55R17
225/40R18 XL
225/45R17 XL
225/45R18 XL
225/50R17 XL
225/55R17 XL
235/40R18 XL
235/45R17 XL
235/50R18 XL
245/40R18 XL
245/40R19 XL
245/45R17 XL
245/45R18 XL
255/35R18 XL
265/35R18 XL
275/30R20 XL
Our tyres are manufactured in many countries under the strictest quality control and every Bridgestone tyre comes with a five-year warranty against manufacturer defects from the date-of-manufacture. Bridgestone Tyres Sales Singapore Pte Ltd assures that tyres sold in Singapore are suitable for local roads and climate conditions.

At Bridgestone, we strive to provide the best service to our customers. Therefore, our authorised dealers undergo frequent trainings and adhere to recommended procedures for your tyre installation.

The new RE004 I would say is very banged for the buck with a very sporty thread pattern to go along with. After driving for around 150KM, I will say it has surpassed it, predecessor, the RE003 in grip and respo...
Read More »
| | |
| --- | --- |
| | Merchant Ratings: |