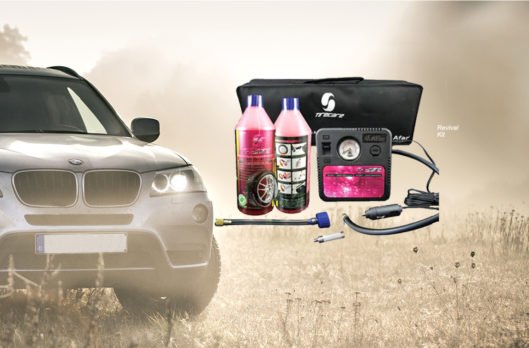 You are on the expressway and your tire punctures. You have the following options:
Change the tire (Oops! Did you know most new cars do not come with a spare tire)
Call a professional roadside assistance
Utilize the manufacturer supplied temporary tire repair kit
People have become so used to conventional solutions to tire punctures that they stopped questioning it. But we did. The game changing TireCare Revival kit is designed to permanently fix punctures up to 12mm, allowing you to resume your journey in just 10 minutes. No lengthy downtime. No prolonged exposure to the dangers of passing traffic. No costly tire replacement.
Best of all, the TireCare Revival sealant continues to protect your tire against subsequent punctures for the next 1 year or 15,000km (whichever is earlier) post-application. Safeguard your journey today with the TireCare Revival kit, compatible with both standard and run-flat tires.
For added security and convenience, the TireCare revive sealant can also be applied prior to a puncture for all 4 tires, as a preventive solution! Contact us today to find out more how you can benefit from this preventive approach.
It's time to ditch that spare tire:
Permanently seals punctures up to 12mm in seconds
Effective against future punctures for 1 year or 15,000km post-application
Tire pressure monitoring system (TPMS) friendly
Non-corrosive formula does not damage your precious rim and tire, plus it's easily washable
The Revival Kit includes:
2 x TireCare Revive Sealant (400ml)
1x TireCare Mobile Air Compressor
1 x Valve core removal tool
...
Read more [+]

Fantastic product! Had a puncture 2 months ago and used the revival Kit. Found it easy to use and very fast to apply. My tyre is still in good condition and it saved me from buying a pair of new tyres.
Read More »
Distributor
:
TireCare Singapore Pte Ltd
Address
:
65 Ubi Road 1 #03-67 (map)
Office No.
:
98190249 / 63852385
Opening Hours
:
10am - 6pm (Mon - Sat) Closed on Sun & PHs

Merchant Ratings: