---
Dunlop introduces its brand new sports tyre SP Sport Maxx 050+. The tyre is designed for excellent performance on dry and wet roads and stability at high speeds. It is a premium tyre that brings you a superior riding comfort and is an idea for high performance cars and compact SUVs.
The high-performance tread design supports maximum handling and performance in warm, dry conditions
A Hybrid Kevlar Nylon Band helps maintain the tyre's structure in order to balance high-speed performance, comfort and noise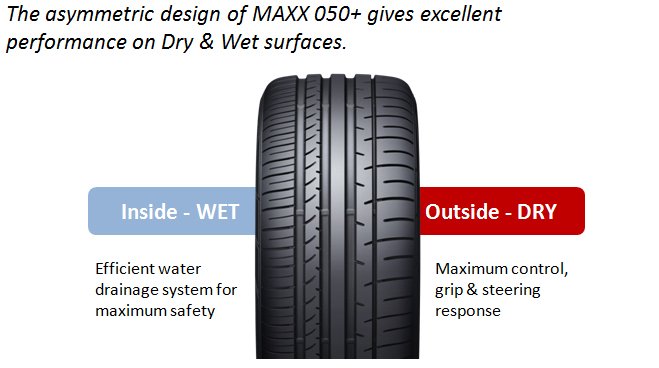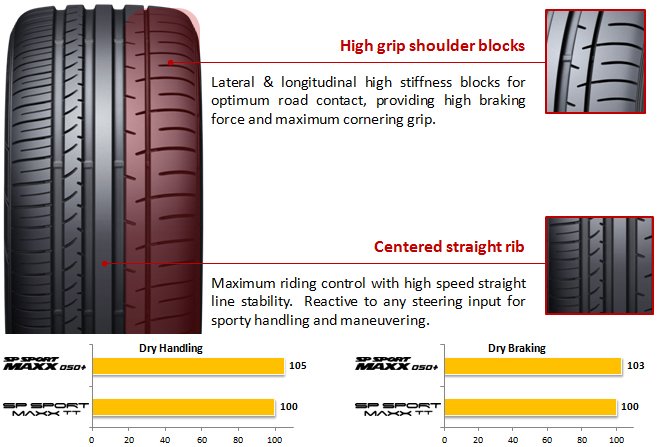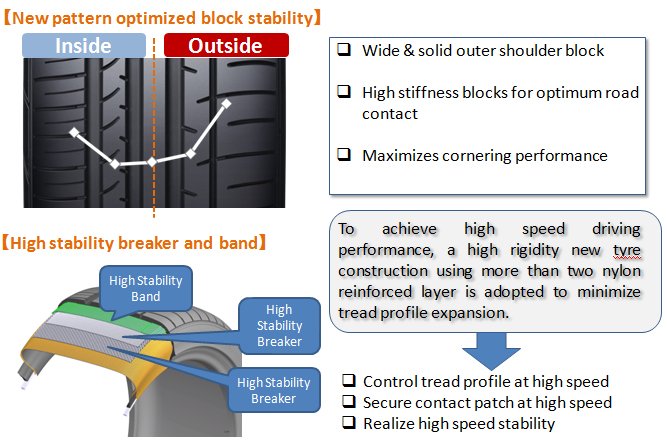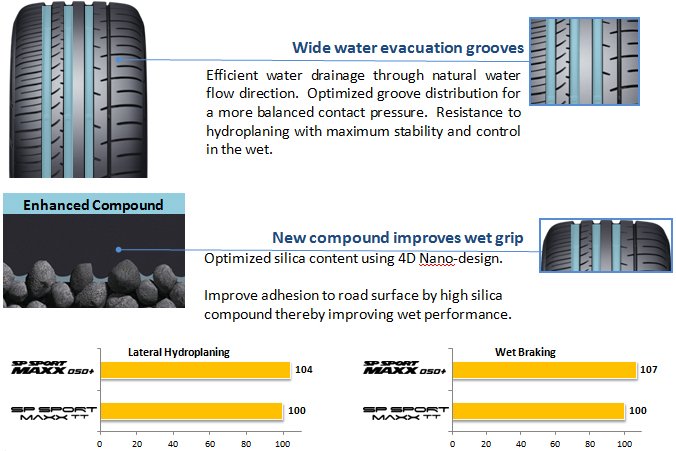 | | |
| --- | --- |
| | Dunlop offers 5 Years Warranty from Date of Installation' for our end-consumers. You can enjoy 5-Year Extended Warranty from the date of installation with the condition that the date of purchase is within 5 years of the date of manufacture. |

| | |
| --- | --- |
| | Good value and performance |
I'm reviewing my set of Dunlop Sport Maxx 050+ tyres (profile 245/45/17) after using it for a year with 21,000km on it. This tyre provides good value and performance in terms of handling and dry/wet condition. It has a harder side wall which means handling over comfort. Noise level was low when new till around 18,000 km mark, after which it is getting louder. - B...
Read More »
| | |
| --- | --- |
| | Reasonable good tyre for road spirited d... |
Used this set of tyres for approximately 20kkm and i would say the dry grip and water channeling is pretty good. No problem withstanding 440nm on my front wheel drive. Nothing to complain about.
| | |
| --- | --- |
| | Review of Dunlop SP Sport Maxx 050+ afte... |
I always want to see review of tyres when they are used after a certain mileage, instead of an instance review; Say after 100 km. But this is the normal review that one will get. I am sharing my review of these sets of 225/55R18 installed on my Mit ASX 2.0 crossover. My previous was Conti CPC6 which ran for 55,000 km before considered a change. The first 1000 km wa...
Read More »
Been using this for 2 weeks (255/35/19). Very happy with the cornering grip, feels more confident during hard cornering and generally quite silent while cruising Thread is nicely designed but sidewall does look a bit boring (MIC and CONTI have best sidewall design), if you are into sidewall looks Paid 265 for each piece. Quite cheap for this size Can't commen...
Read More »
| | |
| --- | --- |
| | Merchant Ratings: |