---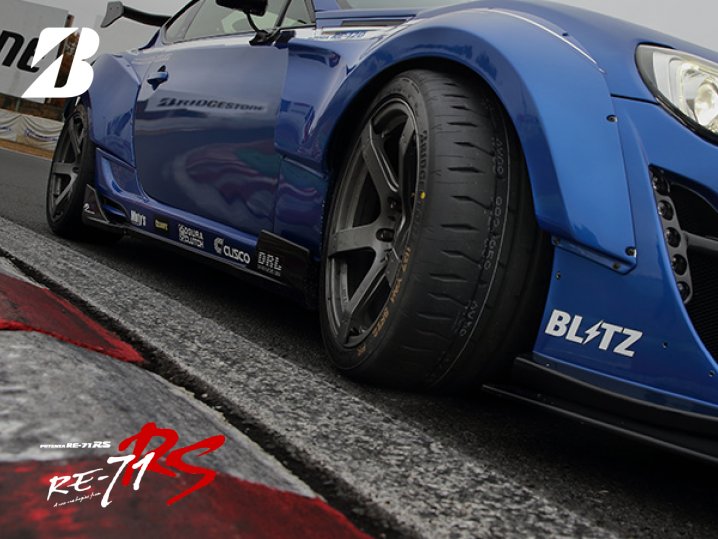 BORN TO BE FAST, NOW EVEN FASTER
Developed with advanced technologies used in motorsports tyres, POTENZA RE-71RS is a street legal and circuit driving tyre that offers superior cornering grip performance, precise handling and enhanced durability.
Street legal and circuit driving tyre
Superior cornering grip performance
Precise handling and enhanced durability
Performance Information

Features:
ASYMMETRIC TREAD PATTERN
Bridgestone's exclusive tyre technology "ULTIMAT EYE™" optimises the asymmetric tread pattern and tyre shape to ensure maximum contact patch during cornering. This contributes to an enhanced dry grip performance and increased speed.


LOW ANGLE GROOVES
By arranging grooves at a low angle, lateral rigidity is increased. With low angled grooves design in the inner side of the tyre shoulder, RE-71RS delivers an improved steering response during cornering.


OPTIMISED MAIN GROOVES
The two wide main grooves on the inside of the tyre ensure high drainage for strong wet performance. The inside grooves allow tread rigidity for high grip when cornering.


SHOULDER BLOCK
The large area outside shoulder block raises the cornering limit. The shoulder block featured on the outer side of the tyre shoulder and its asymmetrical tread design improve wear resistance to provide extended tyre life.
Sizes Available
215/40R17 XL
215/40R18
225/35R19
225/40R18
235/35R19
235/40R17
235/40R18
245/35R19
245/40R17
245/40R18
245/40R19
255/35R18
255/35R19
255/40R17
255/40R18
255/40R20
265/35R18
275/35R18
275/35R19
285/30R18
285/35R19 XL
285/35R20
295/30R18
295/35R18
Our tyres are manufactured in many countries under the strictest quality control and every Bridgestone tyre comes with a five-year warranty against manufacturer defects from the date-of-manufacture. Bridgestone Tyres Sales Singapore Pte Ltd assures that tyres sold in Singapore are suitable for local roads and climate conditions.

At Bridgestone, we strive to provide the best service to our customers. Therefore, our authorised dealers undergo frequent trainings and adhere to recommended procedures for your tyre installation.

RE71RS gives the maximum grip your car can get on a normal dry road. Great for cornering through the bends and improves my braking power as well. Not to mention the improvement in accelerating from traffic light. - Victor Ang, Owner of Honda Civic SKE58--C
| | |
| --- | --- |
| | No regret to choose this tyre |
After using 3 sets of RE71, I thought I would try something different for my next set of tyres and unfortunately I picked a set of tyres which were not Bridgestones. Almost right after driving out, I regretted my choice. After a night of deliberation and driving around, the very next morning I was waiting for the tyre shop to open and I changed out my 1-day-old tyres...
Read More »
| | |
| --- | --- |
| | Smooth, quiet & comfortable ride tyre |
Smooth, Quiet & Comfortable Ride, as compared to previous Yokohama tyre. Install at Autobacs recently at Bukit Batok branch. Good service. Also reasonable price. - Chua Tiong Siang, Owner of Subaru Forester SLZ16--A
The road holding on dry road with RE71R really exceeds my expectations. The grip that I am having during every corners makes me wants to have more. The noise level is not perfect but I am aware of what I am getting when I purchase the set of tires. - Vince Tan Kok Peng, Owner of Lexus IS200T SLZ--R
| | |
| --- | --- |
| | Merchant Ratings: |