---
Pirelli's first "Green Performance" tyre, CINTURATO™ P7™ has been created to take full advantage of latest materials, structures and tread pattern design in order to guarantee savings, respect for the environment, comfort and safety on all road surfaces. Pirelli CINTURATO™ P7™ is on the top in 2010 ADAC summer tyre test confirming its leadership in terms of performance, safety and eco-compatibility.
Energy Efficient
Reduces fuel consumption and CO2 emissions.
Clean Air
Made from eco-compatible materials that minimise environmental impact, both at the production stage and throughout the life of the tyre.
High Mileage
Longer lasting tyre that maintains high levels of performance and safety.
Low Noise
Already complies with the 2012 EU Regulation on the reduction of noise, resulting in improved driving comfort.
Key Homologations:
Alfa Romeo, Audi, BMW, Mercedes, MINI, Peugeot, Skoda, Volkswagen
Expression of the Pirelli "Green Performance" philosophy: a perfect synergy in terms of performance, safety, driving pleasure and attention to the environment. CINTURATO™ P7™ is the right choice for drivers looking for a high performance and eco-compatible tyre for medium to highpowered cars. Also available in RUN FLAT version.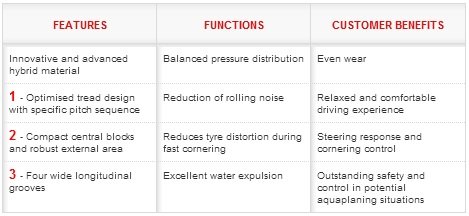 | | |
| --- | --- |
| | Excellent All-Purpose Tyre |
Changed to the Cinturato P7 after wearing out the Hankook Ventus Prime at 56000km that came as standard upon buying my new Kia Carens. Reviewing the first 10000km with the Cinturato P7. Overall, I'd say these are the best tyres in its class. If you are looking for tyres that provide exellent ride comfort and optimal road noise insulation, look no further than these...
Read More »
| | |
| --- | --- |
| | The tire that changed my life... |
I bought a 2001 CLK200K two years ago. The car's road handling in strait line was a concern: the car just wanted to follow any groove, even tiny ones, that was on the road. This required a lot of concentration all the time. I tried many things, changing the shock absorbers, going to a few shops to set the geometry right. There was improvements but it never got resolve...
Read More »
| | |
| --- | --- |
| | One of the Value for money tyres for 205... |
I got this set of tyres at a good price from Guan Hin @ Balestier. My previous tyres include Yokohama Advan, Bridgestone MY01, Michelin PS3. This is the best set among my previous tyres. After more than 1K, I write my review. I rate P7 best among my previous tyres. PS3 is just slightly behind. PS3 somehow is quite puncture prone and looses grip when corner un...
Read More »
Good grip and handling in both wet and dry. Dispels water efficiently during heavy downpours and roads are semi flooded. Doesn't make too much noise and is reasonably comfortable.