---
Competition in the sport's tyre segment is rife, while Continental has just launched the SportContact 6,
Michelin is currently presenting the latest addition to its Pilot Sport range.
The Pilot Sport range has earned a solid reputation, especially for its most versatile version
which until now was the Pilot Sport 3, a tyre available on the market since 2010. To ensure continuity, the PS4 goes even further than its predecessor offering significant progress in several areas, mainly thanks to Michelin's experience in racing.
Driving Pleasure
Logically, the Pilot Sport 4 places the emphasis on driving sensations and pure efficiency. For this, its structure features a reinforced belt to keep any tyre deformation to a minimum and, as a result, improves driving precision, dynamic response and of course, the level of pure grip.
Geared towards safetyThe PS4 is a tyre designed to equip passenger cars. As such, it must deliver an excellent level of safety in all weather conditions. Its new tread compound has been developed with this in mind, just like its wide grooves providing efficient water evacuation. However, the brief presentation did not provide any further information about this new Michelin tyre. We hope to compare it with other reference tyres in the high performance segment in the near future to truly evaluate its potential. Let's hope it achieves its efficiency.
Availability
The Pilot Sport 4 will be available on the market in January 2016, and initially, only in 17- and 18-inch sizes. New sizes will be available later, and in particular, 19-inch sizes.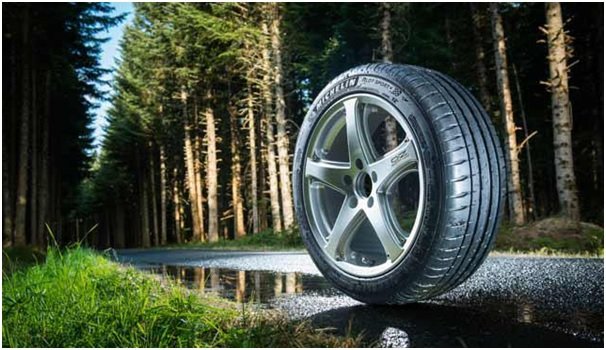 ...
Read more [+]
| | |
| --- | --- |
| | MICHELIN Passenger Car and Light Truck tyres, used in normal service and in accordance with the maintenance recommendations and safety warnings of MICHELIN, are covered by a warranty against defects in design, workmanship and materials subject to the conditions set out below. The warranty shall be for the life of the original usable tread pattern or six years from the date of manufacture, whichever comes first. |

| | |
| --- | --- |
| | Better control at higher speed and comfo... |
Just replaced my ride with Sp4. Feel much confident with the better control of the car at high speed. Replaced with the intention to achieve comfort and better fc from the good tested rolling resistance, look promising after installed with about 10% improvement from RFT. - Darren kho, Owner of Mercedes Benz C180 SND40--K
| | |
| --- | --- |
| | Provides good grip during wet weather |
Really love the PS4 on my Mercedes as it takes corners well and provides good grip during wet weathers. Indeed a set of tyres I will recommend to all SIngapore and Malaysia drivers as the weather here can change in a snap! Well done Michelin for producing such awesome shoes for my ride! - Theorell Tang, Owner of Mercedes Benz CLA180 SKS32--T
| | |
| --- | --- |
| | Good grip, excellent handling characteri... |
"An exceptional UHP tyre from Michelin and it is always the top tyre of choice for recommendation. It never fails to perform and it always offer good grip, excellent handling characteristics yet still retaining comfort and allows for dynamic driving. There is a reason why it is a much-loved tyre by many. By the way, when is the PS5 19"" reaching Sing...
Read More »
| | |
| --- | --- |
| | Safe in all driving conditions |
Michelin Pilot Sport 4 offers me excellent grip in both wet and dry road conditions. Feel safe in all driving conditions. - Gary Chiang, Owner Mercedes-Benz B-Class B180 SGZ9--M
| | |
| --- | --- |
| | Merchant Ratings: |